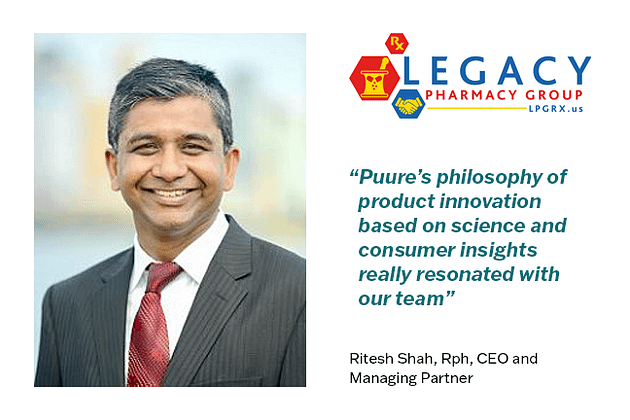 Legacy Pharmacy Group and Puure Therapeutics come to terms on exclusive deal.
550 member North Jersey pharmacy group commits to exclusive deal with Puure Therapeutics. 
Hackensack based group purchasing organization (GPO), Legacy Pharmacy Group has come to terms with Puure Therapeutics as their exclusive brand of premium CBD products for 2022 and beyond. With more than 550 pharmacy members in the 
Legacy Pharmacy Group
 network, Puure
Therapeutics stands to substantially increase its reach into the New Jersey, New York and Connecticut independent pharmacy market. Led by 
Ritesh Shah
, Rph, CEO and Managing Partner and Jay Dhaduk, Rph, Founder, Legacy is now the largest pharmacy group in the NY/NJ tristate area.
"We know our independent pharmacy owners are looking for differentiated, premium products to help them compete with larger chains. With Puure Therapeutics being led by CEO and research pharmacist, Naresh Mehta, their philosophy of product innovation based on science and consumer insights really resonated with our team. I'm not only a fan of Puure, I'm also a customer…the products really work" says Ritesh.
Puure launched with four stores in central New Jersey and plans to roll out to different markets throughout Q1 2022. Specific terms of the deal were not disclosed.
"We are thrilled with the commitment from Legacy Pharmacy Group for Puure's premium CBD products. More than just providing premium quality products, we are true partners helping Legacy Pharmacy Group pharmacy owners with training, education and marketing support" says Naresh
About Legacy Legacy Pharmacy Group (LPG) was founded to strengthen and support independent community pharmacies in a complex and highly competitive business environment. Over the past 7 years, Legacy evolved into the tristate area's largest group purchasing organization for independent pharmacies. Legacy represents over 550 pharmacy members. Headquartered in Hackensack, New Jersey, Legacy prides itself on providing the most progressive and effective programs and services to put profit back in the independent pharmacy. For more information on Puure Therapeutics and their products visit 
https://puuretherapeutics.com/
 or email 
orders@puuretherapeutics.com