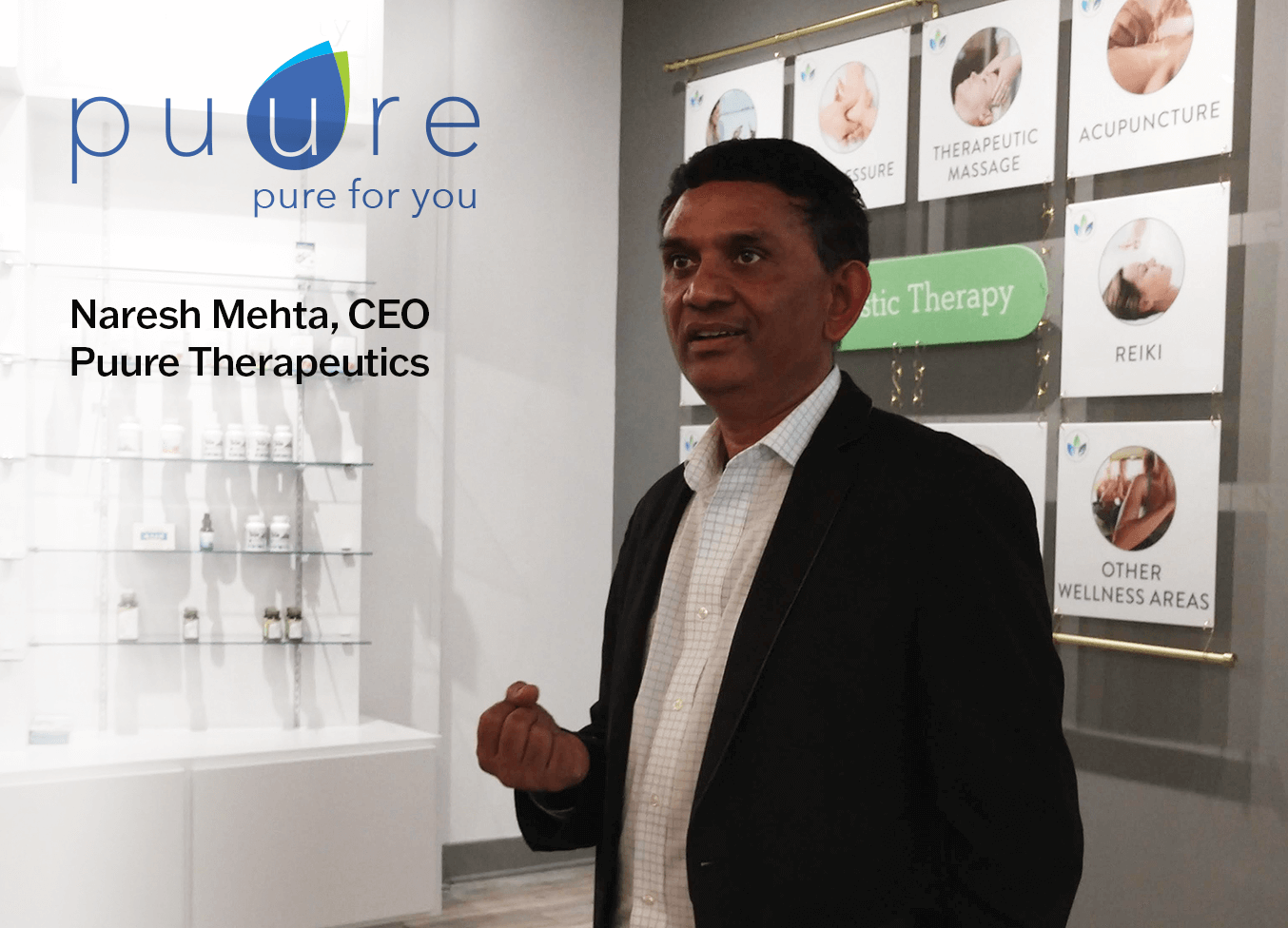 Research pharmacist develops proprietary formulations in CBD therapy.
Naresh Mehta, MS Pharmacy launches Puure Therapeutics based on consumer insights driven by science. 
After thirty years in executive leadership positions at GlaxoSmithKline leading R&D in their Consumer Healthcare division, research pharmacist Naresh Mehta dove head first into the world of natural healing and remedies.
Shortly after leaving big pharma, Naresh co-founded Deep Wellness Center with his wife Deepali, fulfilling a lifelong dream of providing high quality, evidence-based natural vitamins, supplements and holistic therapies.
It was here that Naresh witnessed the incredible healing properties of CBD helping customers with a range of issues wean off medications and opioids and helped them take a more natural approach to wellness.
"I dove into the research, understanding the science behind CBD, what makes it work in our bodies and how it interacts with our cannabidiol system. I wanted to learn everything." says Naresh. 
Using his decades of experience researching many therapies for big pharma OTC products, Naresh launched Puure Therapeutics developing his own formulations and only relying on the science.
"CBD can be such a powerful treatment option for so many people, but with many CBD products on the market today, the level of trust in the quality is not there. That's why I needed to develop our own formula, the Puure formula."
Launched in 2020 with two other partners, a retail pharmacist and marketing executive, Puure sets itself apart from other CBD companies because their products are developed with a focus on consumer insights driven by science.
"We've created a premium product based on consumer insights and driven by science. Puure was developed for better taste (experience) and absorption to deliver a great experience for our customers. When consumers come back for more and we get repeat orders from key retailers and they tell their stories, we know we are doing something right." says Naresh.
Naresh is a natural products industry leader and sought after for consultations on a wide range of topics from CBD science to retail education strategies.
For more information on Puure Therapeutics visit https://puuretherapeutics.com/ or email orders@puuretherapeutics.com
Thank you,
Legacy Pharmacy Group